Children's Yoga and wellbeing sessions
I have worked for a non-for-profit as a family counsellor and privately run children's yoga and wellbeing for kids since 2002.
I use mindfulness, creative movement, visualisations, yoga postures, drawings and relaxation/meditations in private sessions.
By integrating movement and emotional awareness children will help develop gross motor skills, a strong flexible body and better be able to understand their inner world of thoughts and emotions. In all Katie's children's yoga session, imagination is encouraged, countering the effects of screen time. There are many children's yoga videos available now and although there are some benefits, children will be drawn to the screen to practice the postures and games rather then using their own wonderful imagination.

Katie is a qualified holistic counsellor and children's yoga teacher and has run wellbeing and yoga groups for children since 2001.  Please contact Katie either by phone (03) 9489 9591 or email beyoga for more information.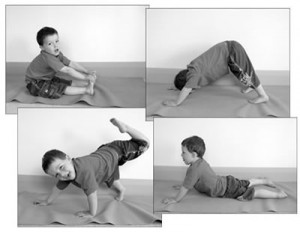 Children's yoga is beneficial in so many ways.  It is non-competitive and helps send blood and nutrients through every part of a child's body.  Children move their bodies in a way that benefits both left and right side of the brain which is great for their gross motor development.  The best thing (I believe) about children's yoga and wellbeing is integrating the emotional world with the physical through games, play, dance, visualisations and relaxations.  By this, I mean a child maybe feeling anxious but has no words to explain this to a parent as they don't understand why.  Through an integrated yoga and wellbeing class the child who feels anxious maybe  able to explore how this feels in their body thus helping them to release the feelings of anxiety.  The child will then take away valuable simple tools that they can use at home at school and in any part of their every day life.
Children are so wonderful to work with as they are fun and open to different experiences.